Magazine
Illustration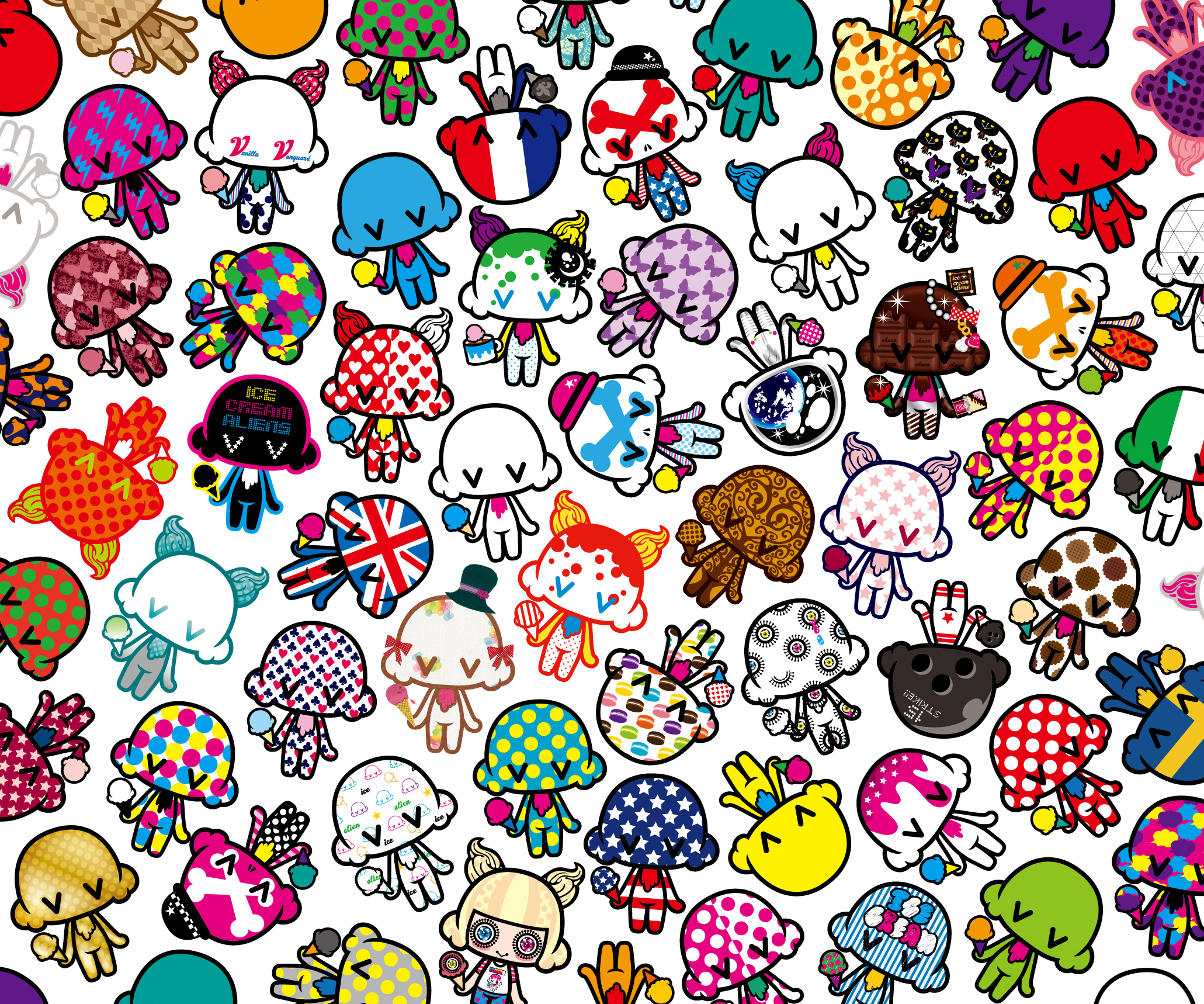 "Kawaii, Hi-color, TokiDoki Dark" pop art creator "Shige" participates in NFT art! We approach the creation of works that make you feel positive just by looking at them.
Mr. Shige, an illustrator who continues to create high-color and pop works, also has a surreal, horror, and slightly psychedelic world view.
Taking advantage of his participation in HINATA, we delved deeper into his attitude toward creation, the thoughts he puts into his work, and his roots.
Keywords for making works are "Kawaii, Hi-color, TokiDoki Dark"
―― Thank you for coming to HINATA!
  First of all, could you tell us about yourself?
[Shige]
I'm a designer who loves bears, horror, and kawaii, and my main work is graphic design and character design.
I want people to feel happy and positive when they see my colorful art.
I would be happy if more people around the world could see and touch my art work, so I entered the genre of NFT art.
Be happy and positive, even in dark art
―― [TokiDoki Dark]!
  It's true that Shige-sensei's works are based on pop music, but they also have a somewhat surreal or dark, unique world view. How did you come up with your current style?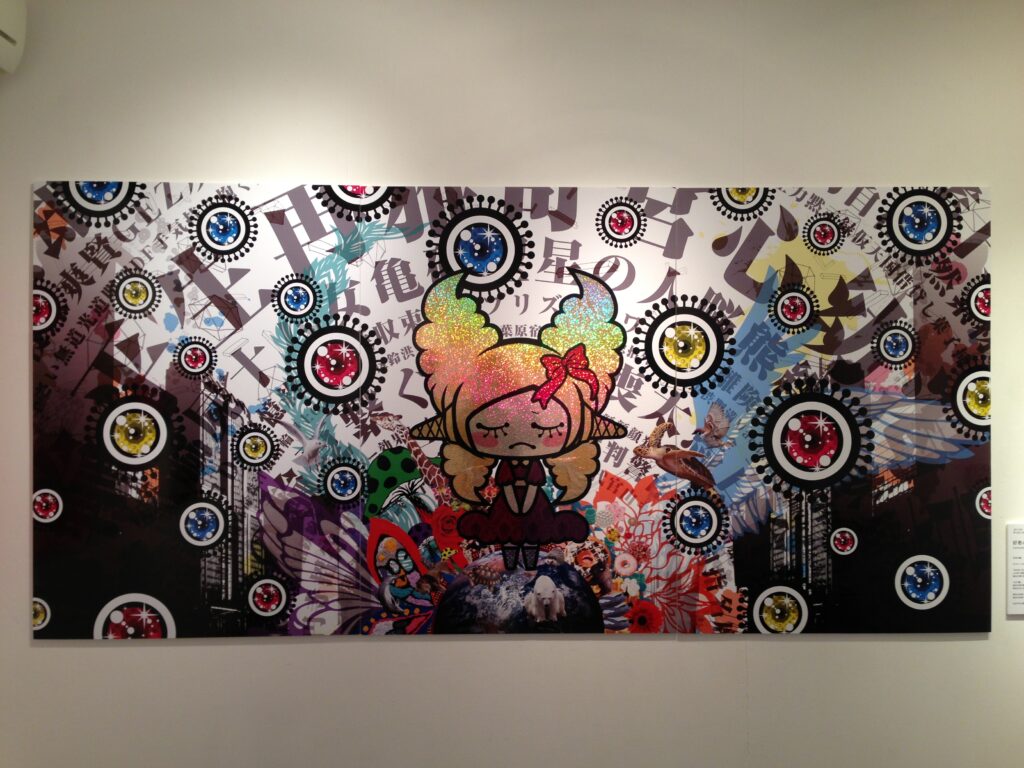 [Shige]
It's not that I've been drawing since I was little. Back then, I was a dropout student, and the only thing I was able to get into and score high in was the character design class (laughs)
. I went.
―― Really! ?
  I can't believe that he started drawing when he was an adult.
[Shige]
Thank you.
Works with a dark world view are mainly about new challenges, experimental art, and the lifestyle and emotional aspects of the year. Even so, I try to express kawaii as my first priority so that people who see it do not feel negative.
Also, Hi-Color, which is the axis of my work, has a lot of opportunities to use it because it simply has an "impact" and I majored in character design.
When I am excited and enjoy choosing my favorite colors and drawing them, the colors naturally come together (laughs).
Among the items I exhibited this time, "Three Bears", which combines the three primary colors of C (cyan), M (magenta) and Y (yellow), which are representative colors for me, and my favorite bear, is exactly like my business card. It became a work.
On the other hand, the concept of "UNDER BEAR", which is composed in deep tones, is based on a dark world view, but by creating a game-like story that hints at a hopeful ending, the dark art does not leave a negative aftertaste.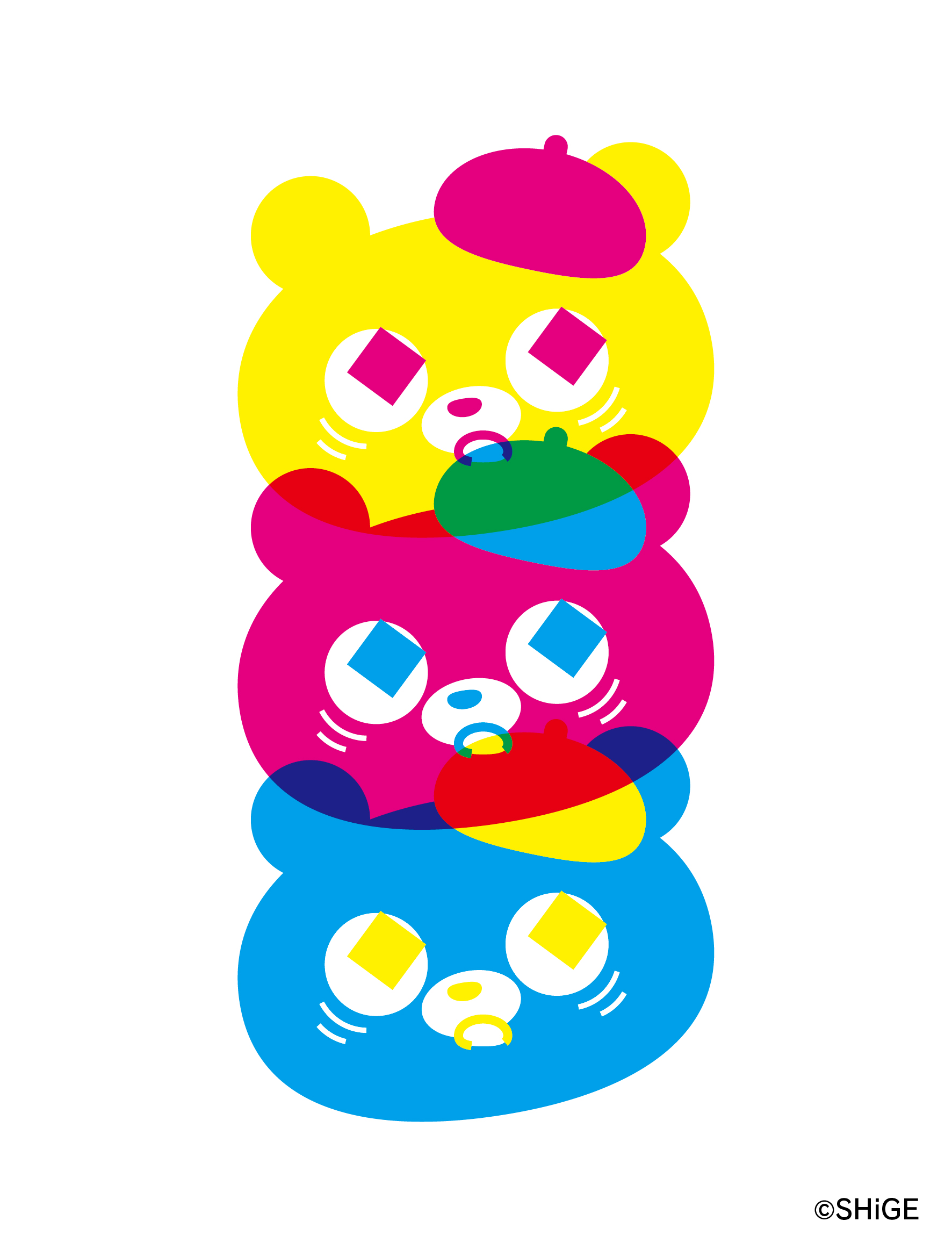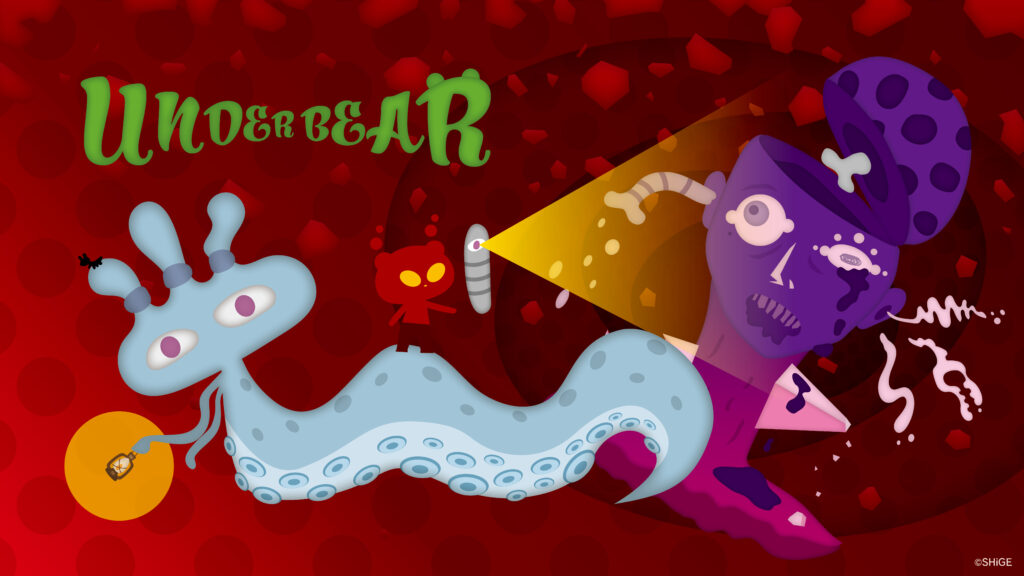 ―― I see. It's similar to what I said earlier about "people who see it don't feel negative"!
  How about other works?
[Shige]
"ICE CREAM ALIENS" and "GASMUSH" are based on the concept of character toys, and are designed to be enjoyed with various skin variations.
"ICECREAMALIENS" are handmade, but they are also made into figures.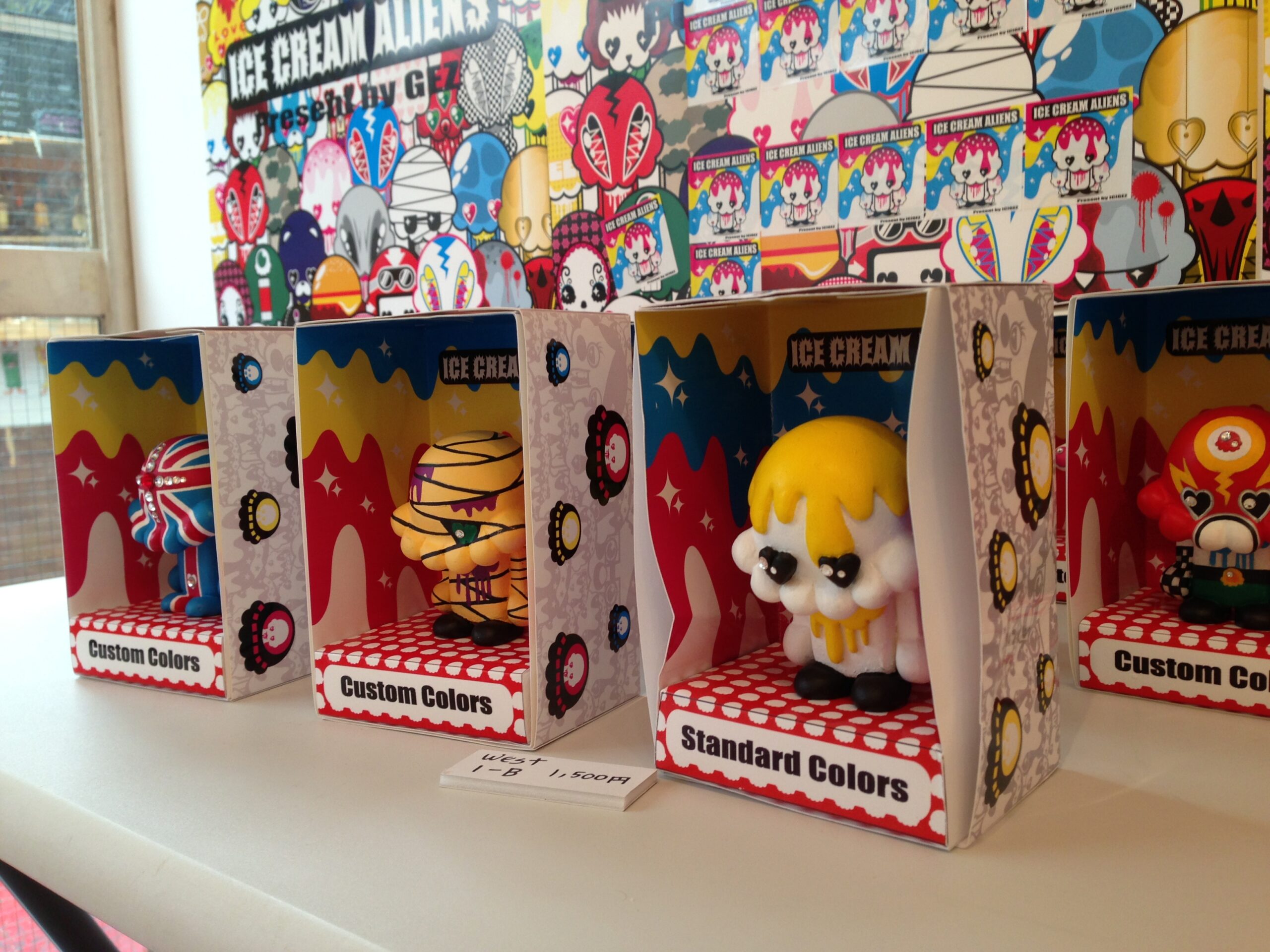 ―― Eh, cute……! ! !
   If I have a capsule toy, I will definitely spin it (laughs)
[Shige]
(laughs)
―― Shige-sensei is affiliated with Noname Productions. Please tell us about your activities at the company.
[Shige]
Noname product, I am in charge of Vtuber name logos, mini characters, video thumbnails, etc.
Especially for the mini characters, I've always liked toys, so I designed the concept of a design that would lead to merchandising. The logo design is cute and cool, but I try to make it stylish. I am very happy to see that the logo is used as it is for goods!
―― The logo Mr. Shige draws captures the individuality of each person well, giving the impression that it is a single piece of art.
  Do you have any special moments in your work at Noname Productions?
[Shige]
Yes. I was especially nervous because Riku Kurita's name logo and mini character was my first request for a Vtuber.
Also, although it's not a work, when I was new to the Vtuber industry, my manager Nek Nozawa gave me advice and helped me in various ways (laughs).

―― And recently, there is information that the range of activities has been greatly expanded!
  I heard that collaboration exhibitions with restaurants and Creator EXPO were also successful.
[Shige]
Thanks to you, I am currently receiving a lot of requests for productions other than Noname Production, so I think it would be interesting if I could use my experience so far to broaden my horizons and get involved in genres other than Vtubers. We are here.
――Finally, please tell us about your future creative activities and NFT sales prospects.
[Shige]
I would like to announce new works and new series !
Please look forward to future HINATA news!
――thank you very much!
  Stay tuned for future activities!
---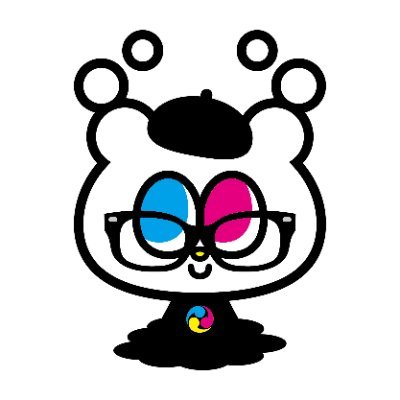 Shige
A designer who loves bears, horror and kawaii
Designer lecturer, mainly graphic and character design.
Published in "Japan Creators 2022".
Recently, I'm addicted to creating VTuber logo material characters.
Responsible for the name logo, background design, and SD characters.
Deliver Hi-color design with POP.
I also draw a little dark art.
---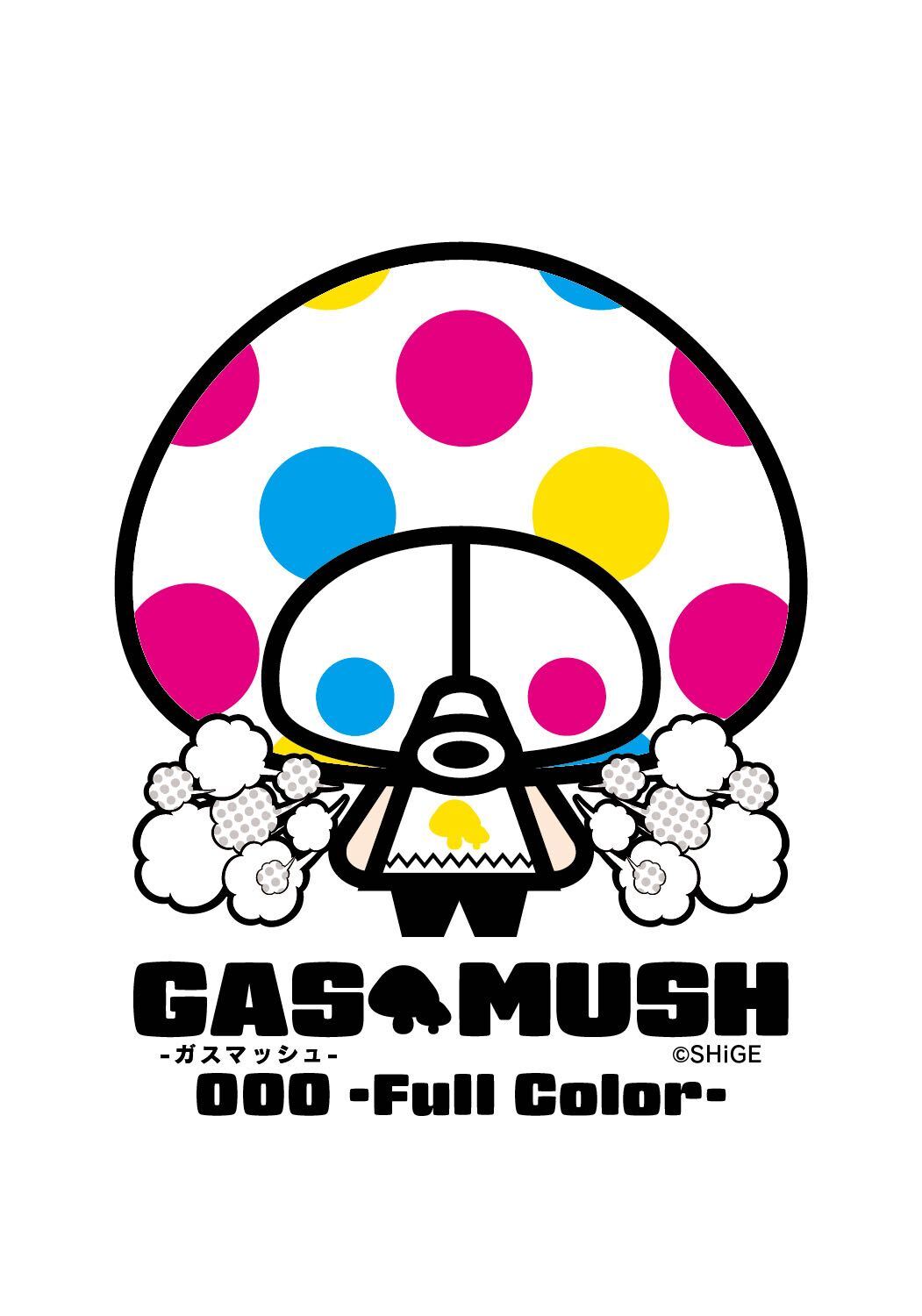 NFTプラットフォーム「HINATA」(2022年1月11日公開)