Magazine
Game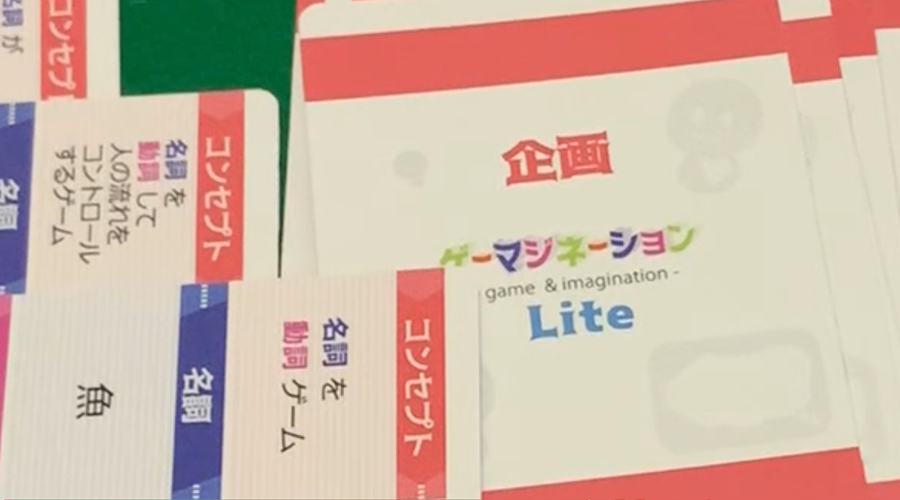 [Board game NFT] From enthusiasts to the world, to a new stage with the weapon of NFT
Board game x NFT
 "Can I sell the board game as a whole NFT?"
 Mr. Hirotaka Hoshi of SH-GAME's planning and development department, who develops, produces and sells a wide range of games from analog to digital, consulted us at "HINATA".
 Board games are a general term for games played on a table, and familiar ones include cards, chess, and mahjong. The theme of this time is the board game, which is a limited number of original games conceived by individuals and circles and distributed among enthusiasts.
 The reason why he proposed NFT to "HINATA" this time was that he wanted to spread the mechanism of entrusting the game he created to someone else, which was an unexpected reason.
 And he said that the reason why he felt that a mechanism was necessary was related to the circumstances of the Japanese board game industry.
Special circumstances in the Japanese board game industry

 Mr. Hoshi said to a friend, "There are games that were very well received, but can no longer be obtained because the creators can't resell them. I want to recommend them to more people, but it's a shame that we can't increase the number of players." I heard you heard the story.
 It seems that many Japanese board games are often made by individuals and small groups that do not aim for commercial profit, such as doujin activities and circle activities.
 If it is a game produced and sold by a general company, it is natural to consider the option of reselling popular titles to increase profits. However, the main purpose of game designers who work in such circles is to give form to new games that they come up with, so they rarely continue to produce completed and sold games for a long time.
 Of course, the more a designer can create an excellent game, the more likely he or she would like to release more and more new titles rather than spending their limited funds to reproduce existing titles. It may be.
We hope that it will become a common property for all people who love board games.
 Mr. Hoshi came up with NFT as a solution to such a situation in the board game area. Instead of selling the product itself, the game data itself will be sold as an NFT with manufacturing and sales rights.
 According to Hoshi, if board games can be bought and sold using NFTs, everyone will benefit.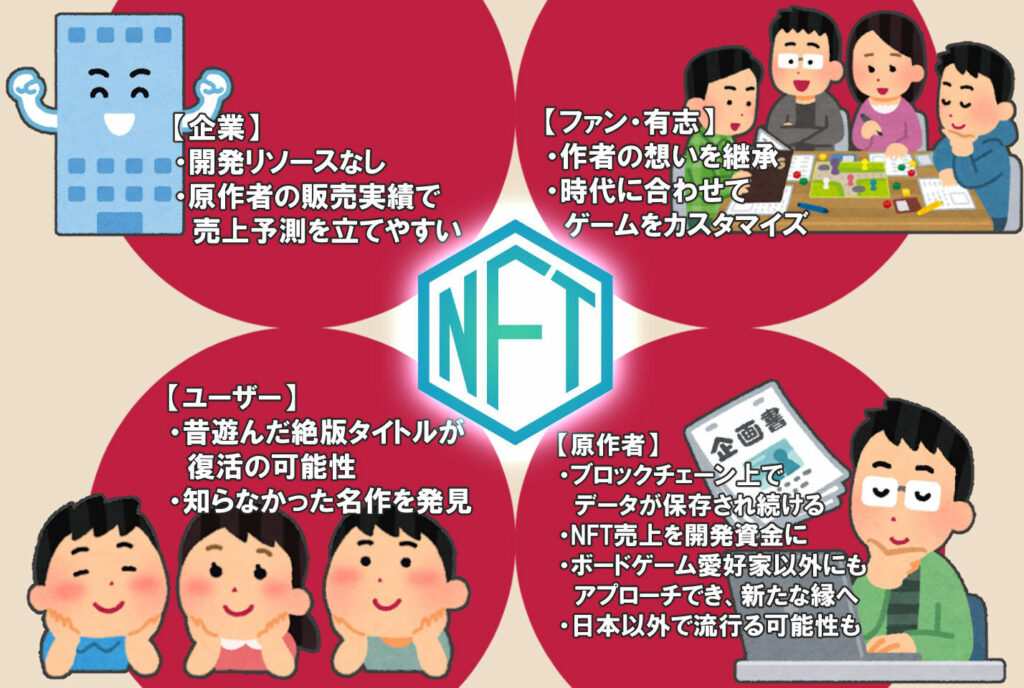 For companies, it is possible to increase the number of in-house products just by purchasing without spending development resources, and if the original author's sales record is known, it may be a product that makes it easier to predict sales.
 Or, of course, it is possible for fans and volunteers to purchase the work, inherit the thoughts and imagination of the author, redistribute the work, and develop it according to the times.
 And users can enjoy various titles for a long time by reselling works of memories that they enjoyed in the past and hidden masterpieces that they did not know at the time of the first edition.
 For original authors such as game designers, it's even better.
 In addition to the data of their work being saved on the blockchain as NFT and remaining permanently, if the sale is successful, they will also be able to obtain funds to create a new game. Popular titles can be widely known, and new connections can be obtained, and it is possible to make use of them in your work as a career.
 And above all, by being able to purchase from anywhere in the world, there is also the possibility that the work will be localized and played. A game that you created has actually become a big hit in a foreign country you don't know… Isn't it a very dreamy story for game creators?
"There are still many board games created by the original authors with their wisdom, ingenuity, and passion
 . It would be wonderful if open licensing like this could spread, and I would be happy if I could leave my name in history as a pioneer," he told us.
HINATA will help you pass on your passion.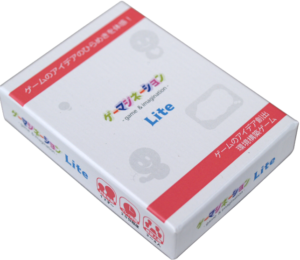 HINATA is a marketplace that aims to expose all creators to the sun, but Mr. Hoshi's story this time is a world only for a few enthusiasts. It was a story of creative loss that was happening.
 There is no doubt that selling on NFT will throw a stone on this problem.
 However, I thought that even if an individual liked the game and purchased it, it would not be possible to reproduce the game just by handing over the data, and the game might end up being a dead stock. In that case, Mr. Hoshi's goal of preserving and inheriting board games will not be achieved.
 In addition to providing a place to send out to the world as NFT, is there anything we can do to help?
 Therefore, printing, manufacturing, and hand-to-hand-in other words, we will guide you to a printing factory that can be manufactured and a contact point where the purchaser can contact directly, and in the form of "HINATA will support the journey to remanufacturing." I decided to help Mr.
 Since the purpose is to support the preservation and inheritance of board games, there is no restriction that purchased games can only be manufactured at factories introduced by HINATA. never.
 Sunshine to all creators.
 And so that NFT becomes a more familiar existence.
 Mr. Hoshi's efforts may be a new step for the board game industry as a whole and for us at HINATA.
---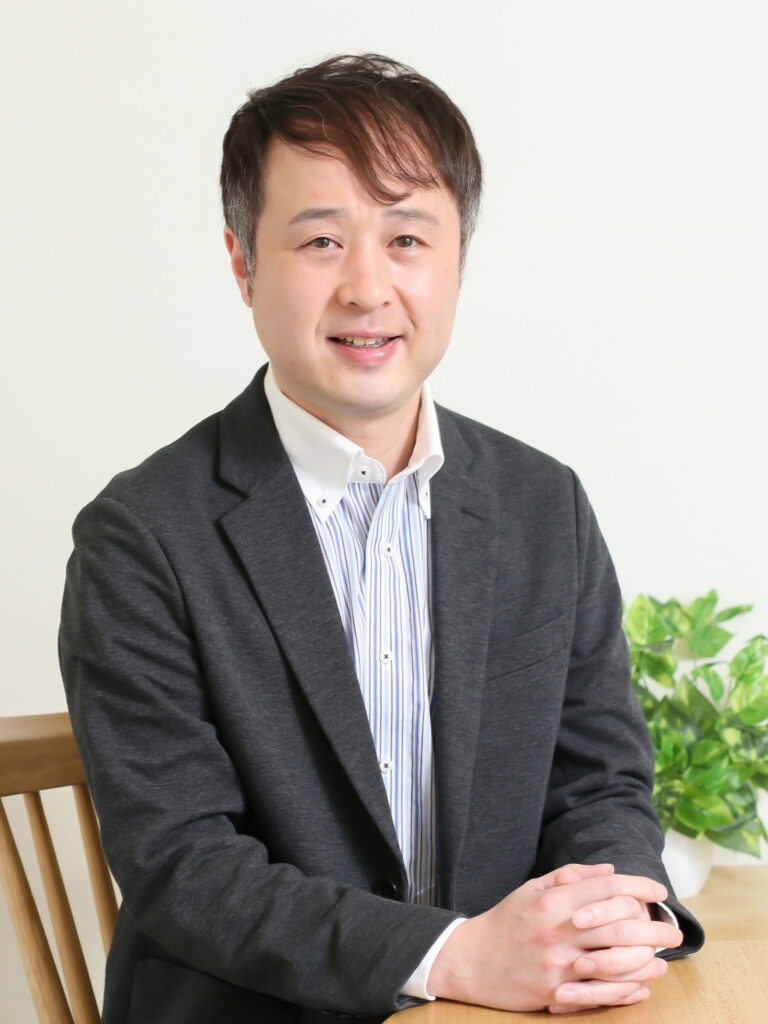 SH-GAME Planning and Development Office/Hirotaka Hoshi
Game creator for 15 years in the game industry.
He has been involved in a wide range of development and operations, including planners, scenario direction, and scripts for 8 console games and 2 smartphone social games.
He has also participated in the development of many IP game titles, including manga that are very popular overseas.
He is currently working as a freelancer.
As an individual, while releasing five game apps such as VR games and hyper-casual games, I also host game parties using analog games and hold networking events for people working in the game industry. , We are also actively engaged in activities to excite analog games (board games).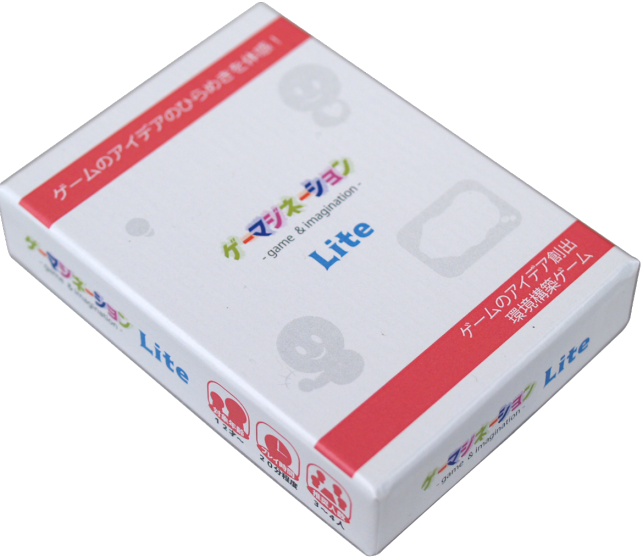 NFTプラットフォーム「HINATA」(2022年1月11日公開)