Magazine
Official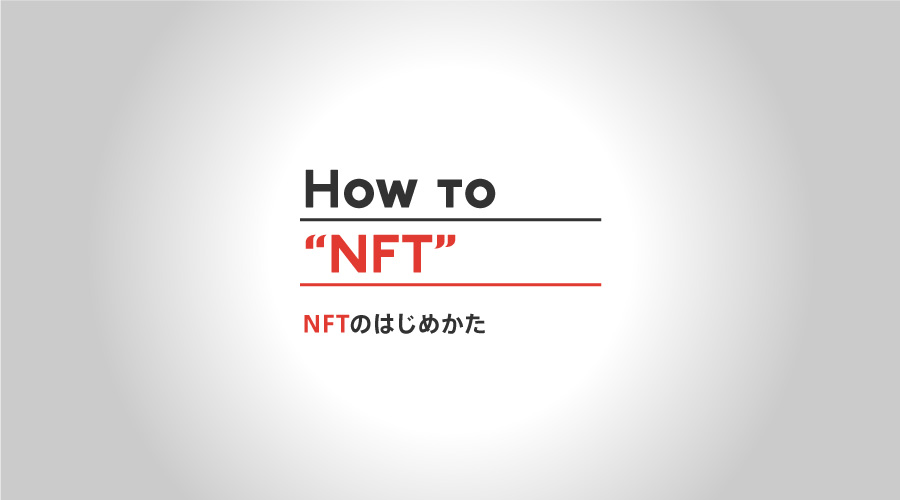 How to start NFT? Thorough explanation of necessary preparation, purchase, and listing methods with images
"NFT" has been nominated for the buzzword award in 2021 and is attracting attention in various places . I think there are many people who want to start but don't know exactly how to start.
In this article, we will specifically explain how to purchase NFTs, how to create and sell them. I would appreciate it if you could refer to it because it is an easy-to-understand introduction with images.
1. What you need to know before starting NFT
NFT is an abbreviation for "Non Fungible Token" and is a type of digital data.
Each item is irreplaceable, unique and identifiable, and even though it is digital data, it can be handled like a real object.
On the other hand, there are features that are different from the real thing, so we recommend that you keep the following points in mind in order to be able to purchase and sell smoothly.
Characteristics and issues of NFT
Leading marketplace for NFTs
Major cryptocurrency exchanges
I will explain in detail step by step.
(1) Features and issues of NFTs
First, we will introduce the characteristics and challenges of NFT.
① Features
Conventional digital data can be easily duplicated by copying and pasting, so there was no concept of quantity or ownership.
On the other hand, each NFT is unique and cannot be duplicated, so it has "finiteness" , and the created NFT is given rights holder information, giving the owner a "sense of ownership" . .
Until now, digital data has no substance and can be generated infinitely, so it was difficult to attach monetary value to the data itself. However, digital data that has become NFT has the same "finiteness" and "sense of ownership" as real objects, so it has come to have monetary value.
NFT traded at a high price
・Beeple's NFT work won a bid for about 7.5 billion yen. Ranked 3rd in the auction record for existing artists│Bijutsu Techo
・One of the popular NFT collection "CryptoPunks" traded for 1.1 billion yen│COINPOST
The "finiteness" and "sense of ownership" of this NFT are strongly supported by the blockchain.
Blockchain is one of the data technologies, and it is attracting attention all over the world due to its strength of security and high transparency. It is also the underlying technology of NFT, and the value of NFT is strongly protected by this blockchain.
In addition, blockchain has a function called smart contract , and it is possible to build a system that automatically fulfills pre-programmed contracts. By applying this to NFTs, we are also creating a mechanism that automatically pays royalties to NFT purchasers and art creators.
(2) Issues
Although NFTs add value to digital data, challenges remain.
-No legal ownership
I introduced that NFTs can be treated like "real things", but the law still does not treat NFTs as "real things".
According to Article 85 of the Civil Code, "ownership" applies only to "tangible objects", so "ownership" does not occur in NFT, which is digital data . Even if the purchased NFT is stolen, it may not be subject to the right to claim refund under the current law (as of March 2022).
NFT is a new technology, so the current situation is that the legislation has not caught up. As NFTs become more commonplace, it is expected that legal issues will become clearer, so it is important to pay attention to future trends.
・The limit of data that can be protected by blockchain
NFT data is strongly protected by managing it on a blockchain, but due to technical problems large data cannot be managed on a blockchain.
Therefore, among the NFT data, the data that is actually protected on the blockchain is only part of the information that is the core of the NFT, and content data such as images and videos are managed outside the blockchain. Mostly.
As a result, high security is applied to the information that is the core of NFT, but the risk of copying and falsification remains in the important content data .
In order to solve this problem, NFT engineers around the world are still conducting research and development.
(2) Major marketplaces for NFTs
The NFT marketplace is a website where you can sell and buy NFTs.
Many marketplaces have been opened due to the NFT boom since the 2020s, and there are hundreds of marketplaces around the world, and more than 30 marketplaces in Japan alone.
Each marketplace has different products and functions, so it is important to choose a marketplace that suits your needs.
Below are some recommended marketplaces that you can use as a reference.
Marketplace
name
feature
Precautions 
when using
Recommended for people like this
HINATA
・Stories of NFT creators
・Media that conveys thoughts
・Eco transactions with low fees
・Easy and convenient smart payment
・There are restrictions on exporting to external markets.
・People who want to support artists through NFT
・People who want to enjoy NFT casually
・People who will start NFT from now on
Coincheck
NFT
・Operated by the major crypto asset exchange "Coincheck"
・Seamless process from procuring crypto assets to purchasing NFTs
・There are restrictions on the NFTs that can be handled .
・You cannot create NFT art.
・People who want blockchain game items
NFT Studio
・Collaboration with many famous anime projects
・You can choose how to manage your wallet
・Examination is required to create NFT art
・People who want anime NFT art
OpenSea
・The world's largest NFT market
・All kinds of NFTs can be traded
・There are too many products, so it is  difficult to find the NFT you want
・Everything from wallet management to product selection is your responsibility
・People who want to handle expensive NFTs that will become a hot topic on the internet
・People who have a certain degree of knowledge about NFTs
Xanalia
・Linked with Metaverse
 "XANA"
・Appreciate purchased NFTs in Metaverse
・Some parts are not supported in Japanese
・People who want to enjoy Metaverse and NFT
(3) Major cryptocurrency exchanges
A crypto asset exchange is an exchange that handles a type of digital money called crypto assets (virtual currency).
Crypto assets are often used to buy NFTs, and " Bitcoin" and "Ethereum" are one of them.
Recently, the number of marketplaces that support credit card payments and NFT purchases by bank transfer has increased, but even now, cryptocurrency payments are common when trading NFTs.
To get crypto assets, you have to open an account on a crypto asset exchange, but there are more than 10 major exchanges in Japan, so many people may get lost.
So, I will introduce two points when choosing an exchange.
The stocks that can be used may be limited depending on the marketplace. It is recommended to choose an exchange where you can purchase as many stocks as possible.
Various fees such as deposits and withdrawals are different depending on the exchange, so it is one of the big points.
In addition, we have summarized the representative exchanges and their characteristics, so please refer to this as well.
Cryptocurrency
exchange name
feature
Precautions when using
Recommended for people like this
Coincheck
・The largest number of stocks handled in Japan
・Easy to use even for beginners
・Deposit fees are higher than other companies
・Leverage trading is not supported
・People who handle crypto assets for the first time
・People who are considering using CoincheckNFT
bitFlyer
・Largest trading volume in Japan
・Highest level of security and leveraged trading in the industry
・High minimum transaction price
・People who want to trade with leverage
・People who value high security
BINANCE
・Overseas xchanges
・One of the world's largest crypto asset exchanges
・More than 150 types of stocks handled
・Deposits and withdrawals in Japanese yen are not supported
・Use of the service in Japan has been restricted in the past, so there is a slight risk
・People who have a certain level of knowledge about crypto assets
・People who want to buy stocks that cannot be purchased on domestic exchanges
2. How to start NFT (when purchasing NFT)
When starting NFT, some people want to buy, and some people want to exhibit their work.
Therefore, first of all, we will introduce the procedure of how to start when purchasing in 6 steps, using OpenSea, which is relatively commonly used in NFT transactions, as an example.
(1) Open an account on a cryptocurrency exchange
Crypto assets are required to purchase NFTs on OpenSea. First, open an account on a cryptocurrency exchange.
This time, I will use "Coincheck" as an example, but since the procedures necessary for trading crypto assets are stipulated by law, other exchanges are roughly the same.
First, access the Coincheck website, go to the "member registration page", and set your email address and password.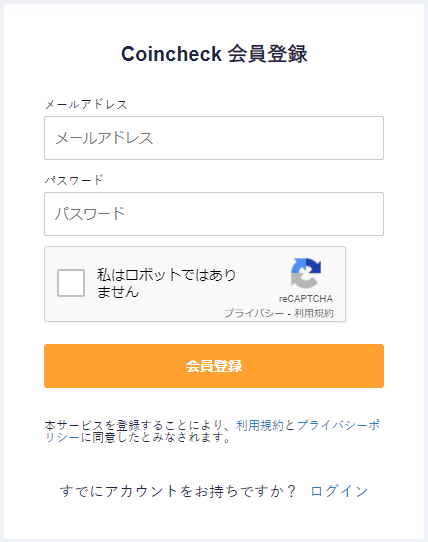 After completing the settings, a confirmation email will be sent to the registered address, and from there you will be taken to the members-only page.
Up to this point, membership registration is complete, but you cannot buy crypto assets with this alone. Follow the instructions on the screen to "confirm various important items" and "submit identity verification documents".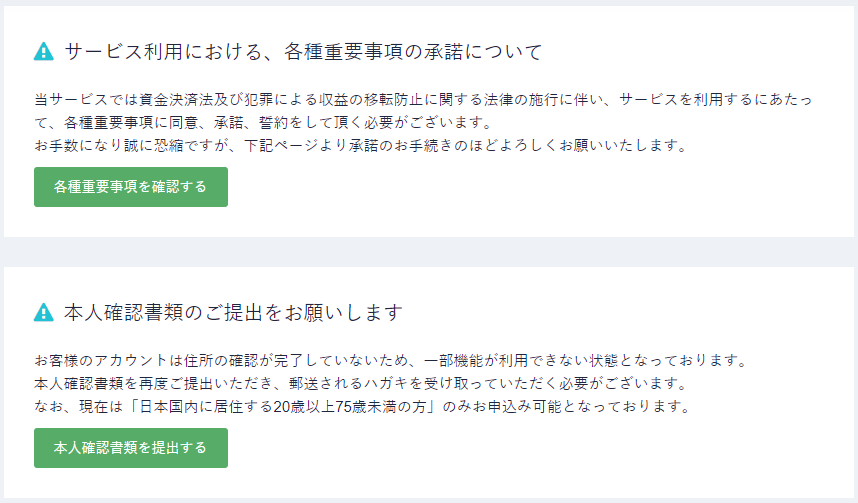 There are 12 items such as "Terms of Use" and "Crypto Asset Trading Manual", but please be sure to check them as they are all important items.
The following preparations are required for "submission of identity verification documents".
Mobile phone number for number verification
Camera for facial recognition (mobile camera is acceptable)
Identity verification documents (one of the following)

Driver's license
passport
Residence card
Special permanent resident certificate
Driving record certificate
Basic Resident Register card
Individual number card
Once you have prepared the above, follow the on-screen instructions to proceed with registration. Once you submit your identity verification documents, your account is ready.
(2) Create a wallet
Then create a wallet . A wallet is a "wallet" that stores crypto assets and NFTs, and is indispensable for trading with crypto assets.
There are several types of wallets, but we will use the most major "MetaMask" as an example.
MetaMask is available in Google Chrome's Chrome store as an add-on for the Chrome browser ( additional page for "MetaMask" is here ).

If you add this to Chrome and follow the instructions on the screen, you can use it immediately.
Setting up MetaMask itself is easy, but be careful not to lose the "backup phrase" and "password" that are displayed during the setting process, as they cannot be recovered.
(3) Buy crypto assets
Purchase crypto assets using the account created in (1).

When buying cryptocurrencies , be careful which stocks you buy .
The cryptocurrency stocks that can be used are specified depending on the market, so decide in advance which market you will use and then choose which cryptocurrency to buy.
This time, I will purchase "Ethereum (ETH)" because it is a purchase at OpenSea.
"Ethereum" is the most major crypto asset for purchasing NFTs and is supported by most marketplaces. If you have not decided which market you want to use, you can buy "Ethereum" for the time being.
(4) Send crypto assets to wallet
Send the purchased crypto assets to the wallet created in (2). In the case of Coincheck, you can transfer crypto assets from "Transmit Crypto Assets" on the side menu.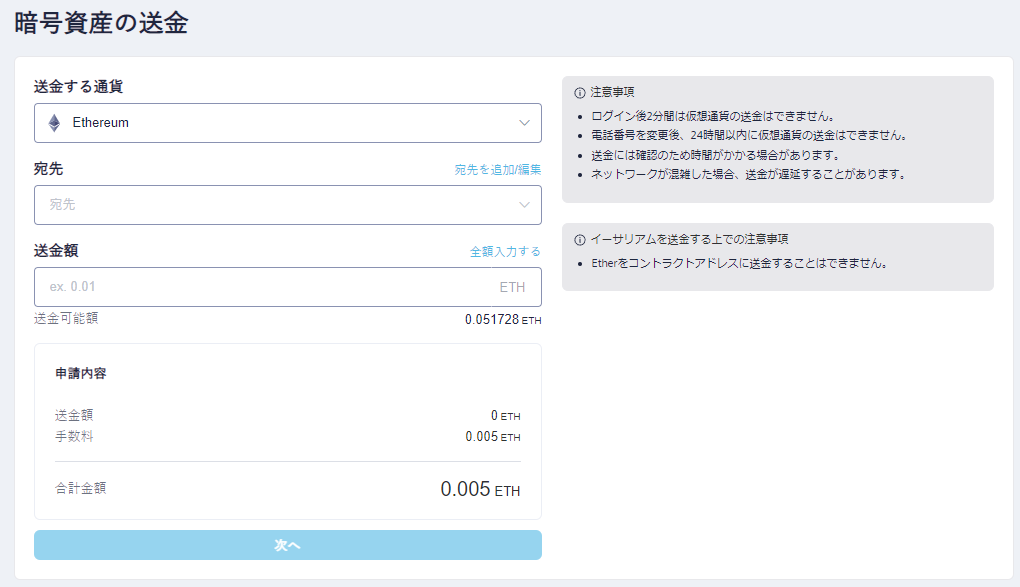 Set the "currency to send", "destination (address of the wallet created in (2))", and "amount to transfer" to perform the transfer.
Even if there is an error in the entered information, you cannot cancel or otherwise cancel the transaction after the remittance process is completed, so please operate carefully. In particular, if you make a mistake with the destination, the crypto assets you sent will be lost entirely, so you need to be careful.
(5) Link wallet and market account
Link the market account and the wallet in (2) so that you can settle with the wallet's crypto assets.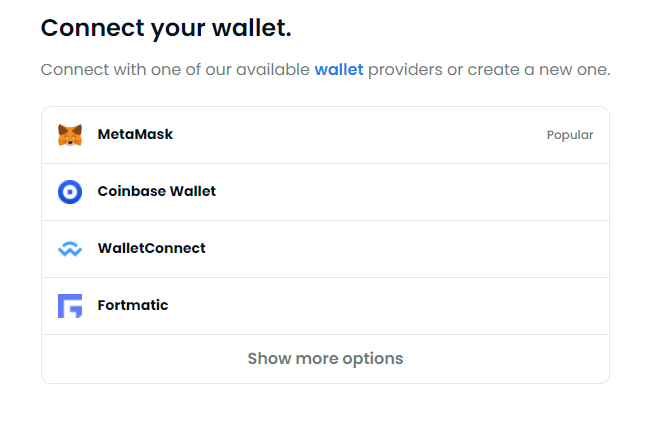 When you access the OpenSea profile screen, the screen above will be displayed, so select "MetaMask" and press the "Sign" button on the MetaMask side to complete the linkage.
At this time, if the "MetaMask" add-on of Google chrome is disabled, it cannot be linked, so let's enable it from the Chrome settings.
(6) Purchase NFTs
All you have to do is find the NFT you like and buy it.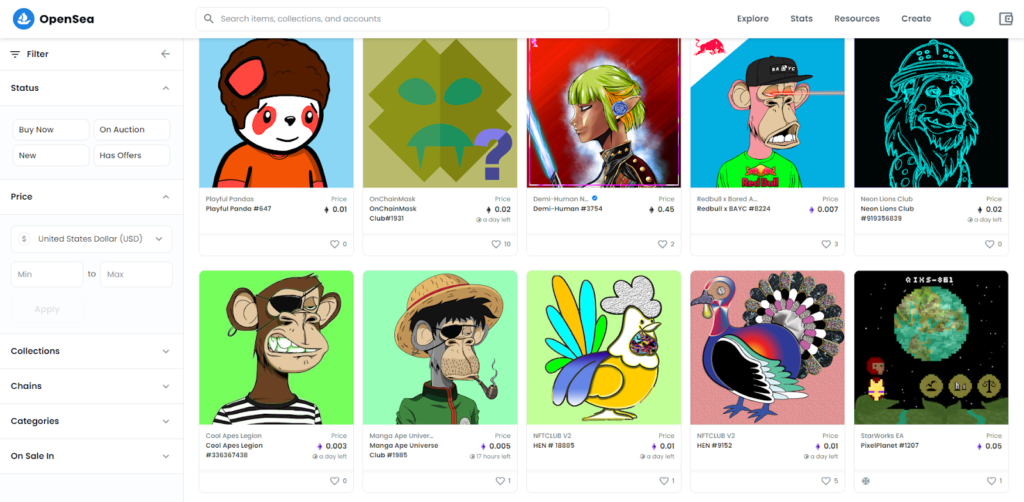 OpenSea has too many products, so searchability is a little difficult.
If you want to find art that you like, it might be better to find the art or artist you like on Twitter or other external SNS.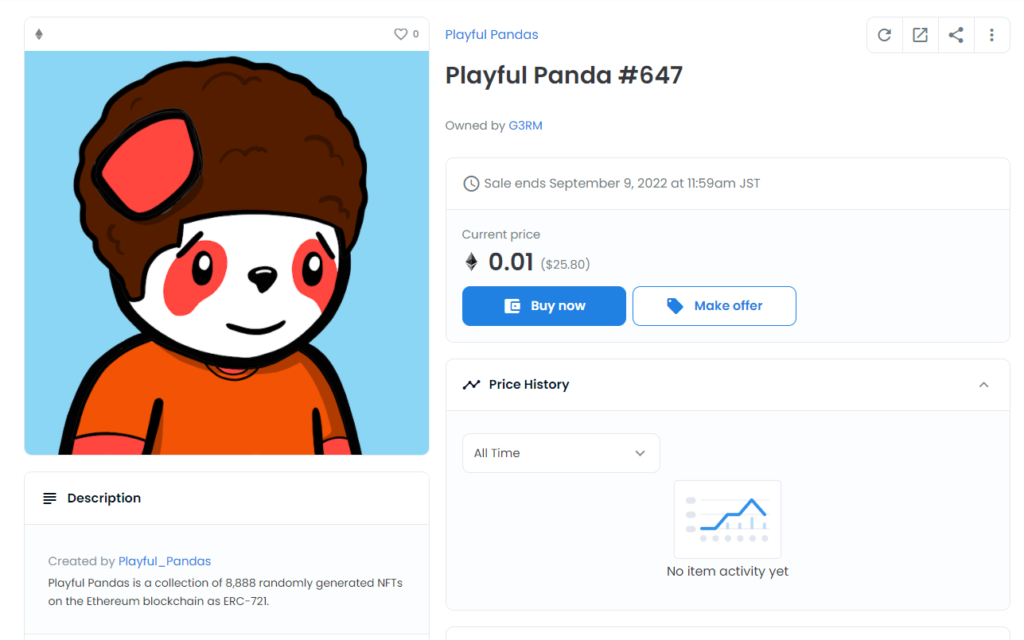 After deciding the NFT you want to buy, start the purchase procedure from "Buy now" on the details screen.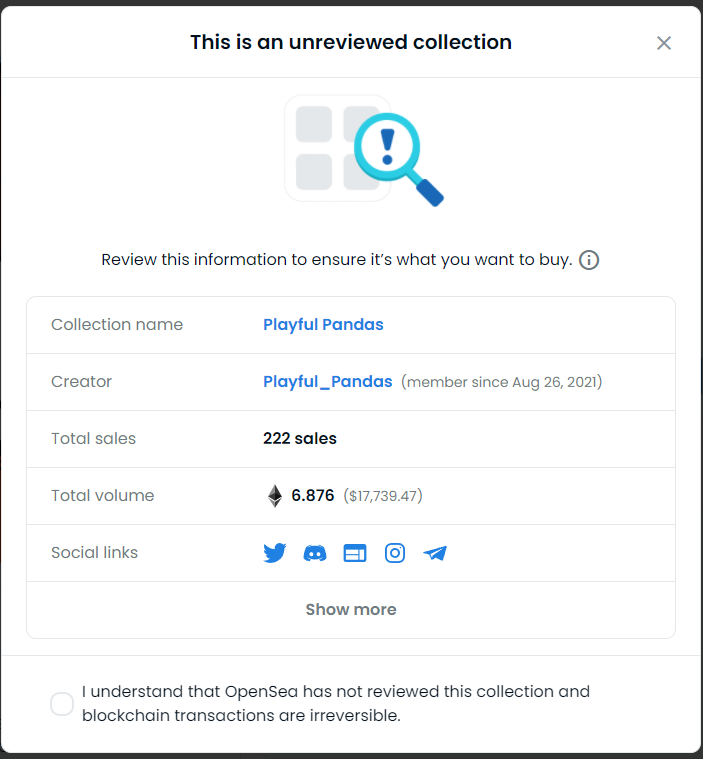 Depending on the art, a dialog like the one above may appear. This is a confirmation dialog when purchasing works from unofficial OpenSea artists.
Check the seller's information in the dialog to make sure it's not spam, then select "I understand that~" at the bottom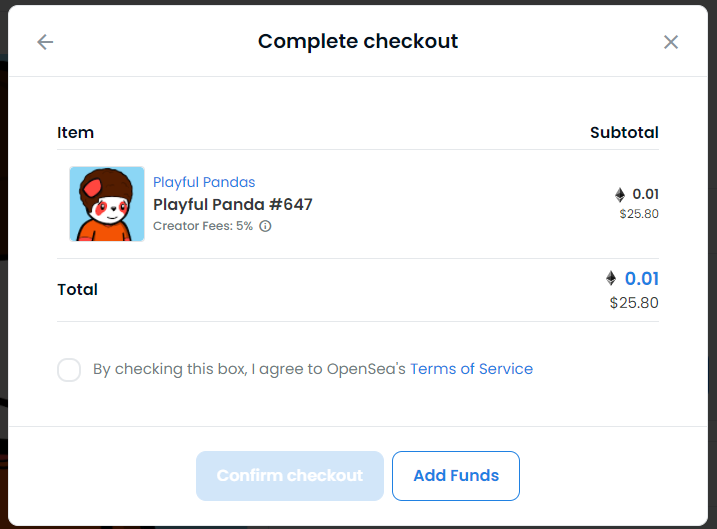 If you select "Confirm checkout" on this screen, the purchase is completed.
3. How to start NFT (when listing and selling NFT)
Next, I will introduce the procedure for listing NFTs on OpenSea in 3 steps.
(1) Prepare the digital work you want to convert to NFT
First, prepare the work you want to convert to NFT.
The works handled by OpenSea are images, videos, sounds, and 3D models. The supported extensions are "JPG, PNG, GIF, SVG, MP4, WEBM, MP3, WAV, OGG, GLB, GLTF" and the size is up to 100MB, so let's match it.
(2) Convert the work into NFT
You can convert your work to NFT from the "Create" button on the top page of OpenSea.
Even when listing NFTs, it is necessary to register a wallet for fee payment and sales receipt, so if you do not have a wallet registered, please refer to (1) of "2. How to start NFT (when purchasing NFT)". Please prepare by referring to (5).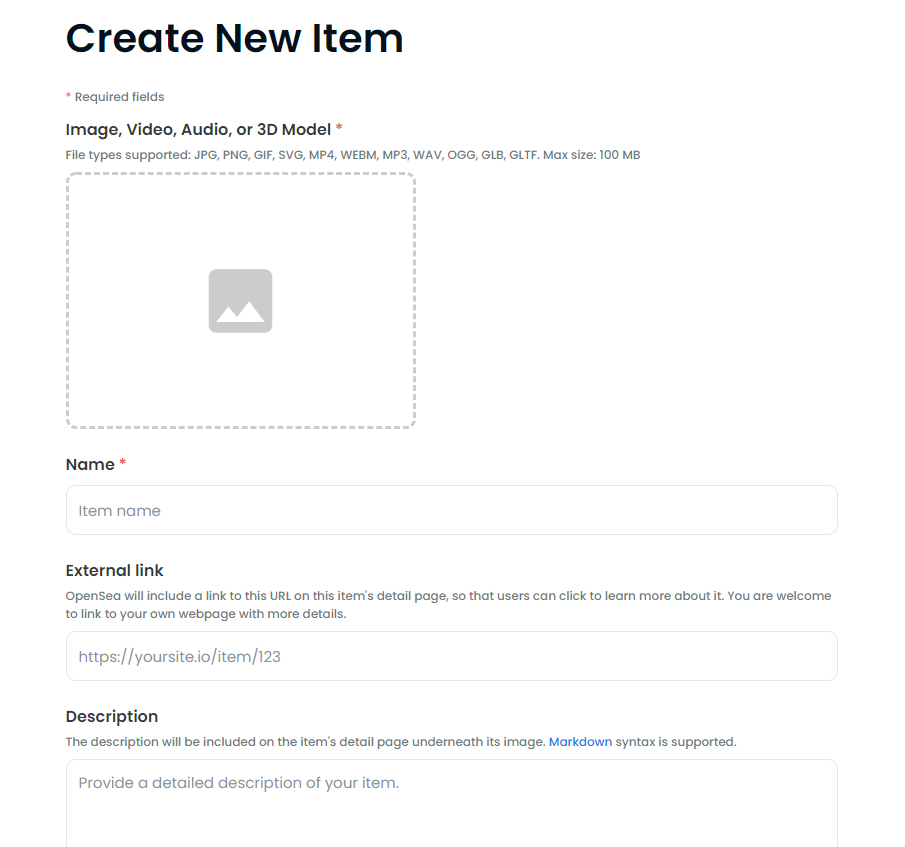 On the NFT creation screen, you can set various information such as "work name", "description", and "tag".
There are other detailed setting items, but the only required items are "Upload data" and "Work name", and you can change them later, so let's fill in the detailed items as necessary.
Press the "Create" button at the bottom of the screen to complete NFT creation.
(3) List NFTs
The NFT you create will be in your collection.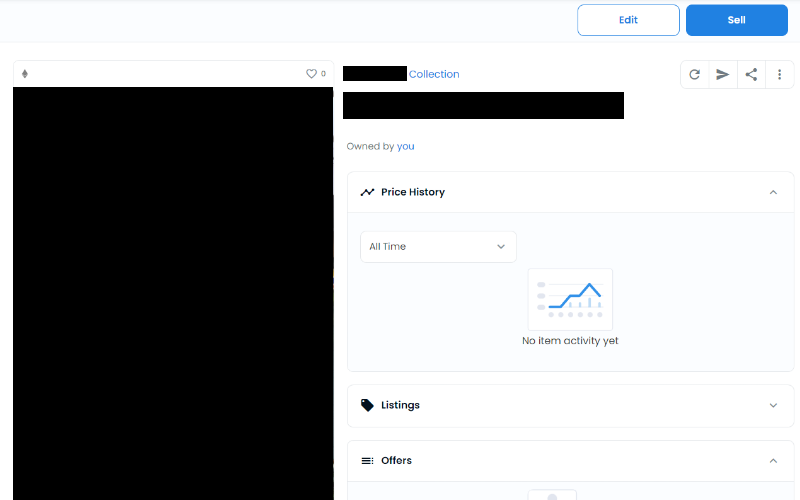 From the collection screen, open the details screen of the NFT you created and press the "Sell" button on the upper right of the details screen to set up the listing.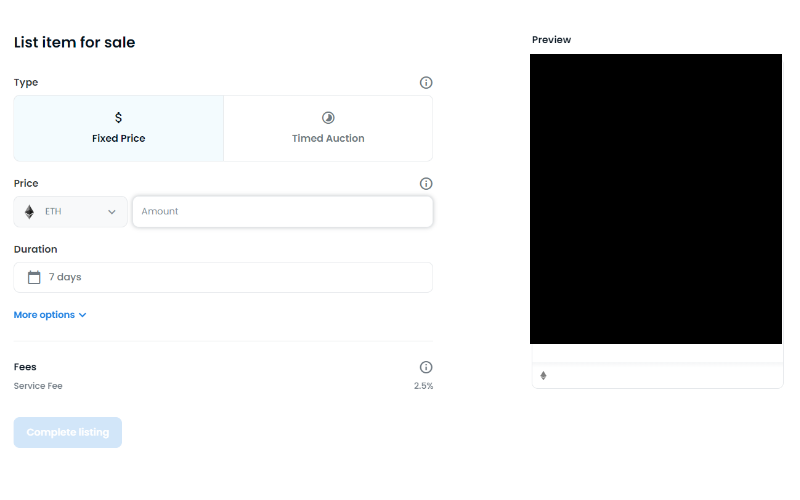 You can choose from two types of listing methods: "fixed price sale" and "auction".
For fixed price sales, you can set the 'list price', and for auctions, you can set the 'starting price' and 'auction period'. After completing the settings, press "Complete listing".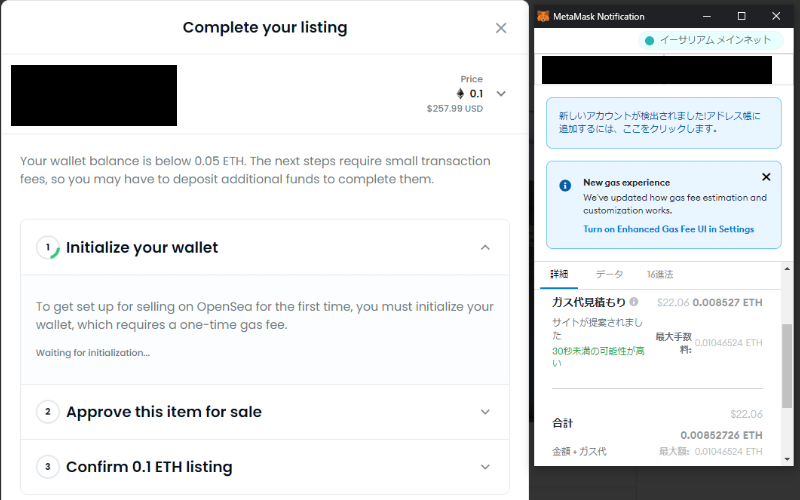 When you press "Complete listing", MetaMask will work together and the above screen will be displayed, so pay the fee (gas fee) from MetaMask .
Gas costs fluctuate in real time, so please prepare by referring to the "Gas Cost Estimate" displayed on MetaMask. $22 for this example.
Once the fee is paid, the listing is complete.
4. HINATA is the place to buy and sell NFTs
Purchasing and selling NFTs on OpenSea requires preparation such as "creating a crypto asset account/wallet" and "purchasing crypto assets".
Also, there is a big problem with fees.
However, if you use the marketplace "HINATA", those problems can be solved at once.
Since "HINATA" supports payments in legal currency (Japanese yen), you do not need to prepare a cryptocurrency account or wallet, and you can easily purchase NFTs simply by registering as a member of the market. Also, since it is a market aiming for "eco-friendly transactions", various transaction fees are cheap.
If you want to start NFT from now on, how about starting with "HINATA" where you can start cheaply and easily?
NFTプラットフォーム「HINATA」(2022年1月11日公開)