Magazine
Art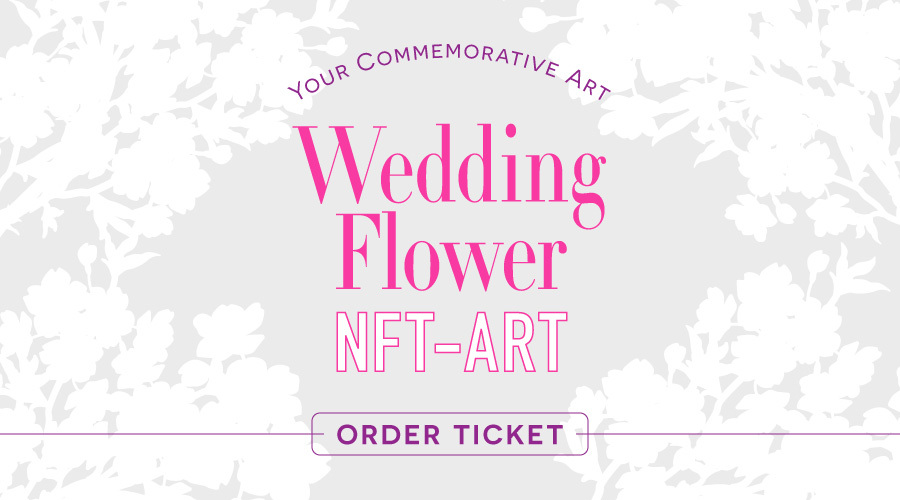 【ORDER ART】Detailed description of the FLOWER NFT-ART experience and the process from order to delivery.
HINATA's "FLOWER NFT-ART" service uses real art and blockchain to preserve the bouquet of flowers that colored the special day of your life in vivid and beautiful colors semi-permanently.
For those of you who are interested in this service but are not sure what to do, we interviewed a person who actually ordered the service!
What is FLOWER NFT-ART?
Our selected artists will create beautiful paintings from your photos and other materials!
We can discuss the details of the painting, such as how large the painting will be, and what kind of taste it will have, on a case-by-case basis.
You can also receive the painted art not only as real art, but also as digital NFT art.
HINATA proposes a new form of commemoration: real art x NFT x bouquet.
Testimonials from actual customers
☆ A gift of a painting of flowers given to his wife when they first started dating.
His wife loved the bouquet of sunflowers that I presented to her on our first date at the beginning of our relationship, and was so pleased that she made it the standby for her cell phone. When I learned about this service, I decided to order it so that I would not forget our first date and so that I could keep the bouquet of flowers that had become a precious memory of our relationship, not as a photograph, but as a painting that I could display in my home.
I am also very happy that I can have it presented at the same time not only as a real painting but also as a semi-permanent NFT, which is a very important memento. I thought this service was unique in that I could order from a variety of overseas artists whom I liked, and I could commission commemorative art from artists whom I would not have been able to encounter if I had only lived in Japan.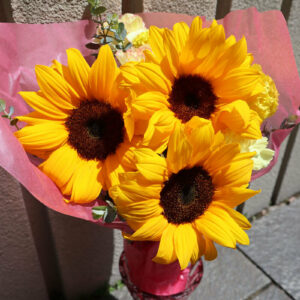 From order to production
Here is the actual process.
(1) Client → Hinata
HINATA will receive your order from the order form on the special page.
(2) HINATA → Client → HINATA → Artist
After a brief hearing on the size, taste, etc., HINATA will inform the designated artist of the order and the details of the client's order.
(3) Artists → HINATA
The artist will submit an estimate of the production period and production and transportation costs.
(Or, if there are any inconveniences in the production schedule, etc., we will ask you to declare them.)
Please note that due to personal information, the delivery address will be disclosed only to the prefecture until the work is completed.
(4) HINATA → Client
We will provide you with the estimate received from the artist. If the client is satisfied with the estimate, we will provide an invoice. If the order is not accepted, we will ask you if you would like to change to another artist.
(5) Client → HINATA → Artist
Once payment is confirmed, we will inform the artist that the order has been accepted and production will begin!
From completion of production to delivery to you
Here is an overview of the process related to transportation until you receive the product.
(6) Artist → HINATA → Client
When production is almost complete, the artist will submit the final confirmation image, and we will contact the client. If there are any concerns upon viewing the images, we will ask the artist if any corrections or additions can be made.
(7) Client → HINATA → Artist
Once the client is satisfied with the content of the creation, the artwork will undergo a drying period before being shipped.
Please allow a few moments for your real art to arrive!
(8) Artist → HINATA
In parallel with (7), digital data of the work will be submitted.
(9) HINATA → Client
HINATA will deliver the NFT art to your account.
Precautions
You agree to the following terms and conditions regarding the transportation of real art.
Please be sure to read the terms and conditions carefully.
NFTプラットフォーム「HINATA」(2022年1月11日公開)