Magazine
Official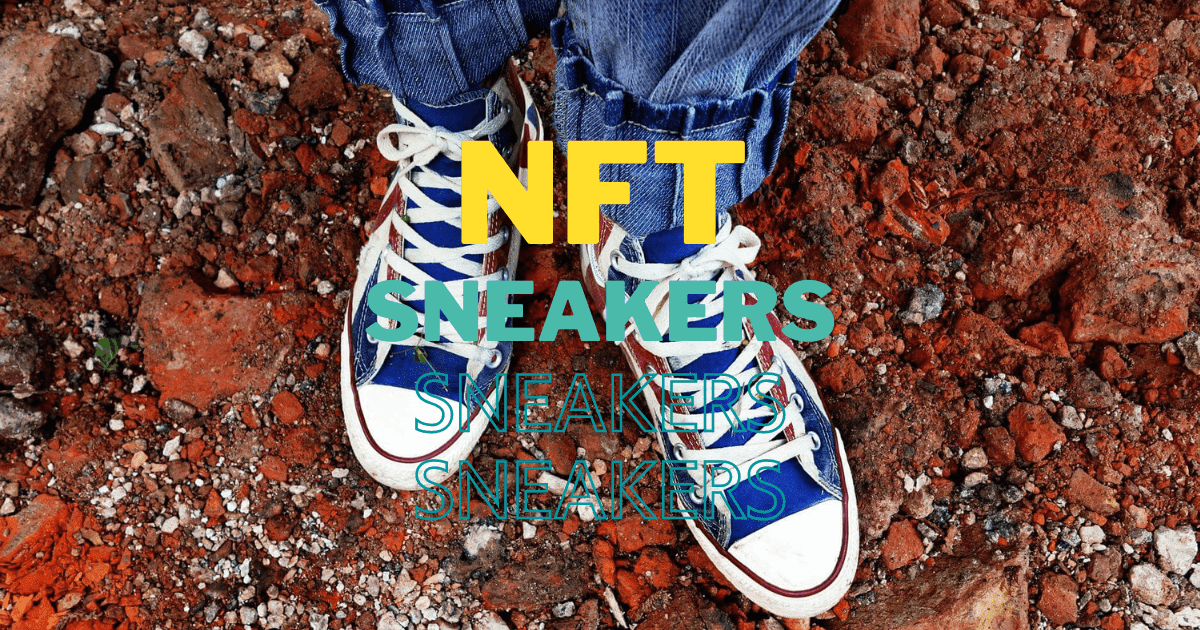 What are NFT sneakers? Thorough explanation of how to buy, how to make, and use cases!
"I heard that 'NFT sneakers are popular,' but I want to know how they are used!"
Many people may be interested in sneakers that can earn money just by walking and famous brands have started selling NFT sneakers.
Therefore, in this article, we will explain how to buy NFT sneakers, how to make them, and how to use them in an easy-to-understand manner .
If you want to make NFT sneakers or want to earn money, please take a look to the end.
1. What are NFT sneakers?
NFT sneakers are digital sneakers that can be used in the online world such as Metaverse, which refers to a three-dimensional virtual space, and games .
It is gaining popularity as a fashion item for avatars and as a "Move-to-Earn" that allows you to earn virtual currency by wearing it in the NFT game.
In the first place, NFT (Non-Fungible Token) is a technology that can prove that digital data is the only asset in the world .
By using blockchain technology, you can check the creator, owner, and transaction history, and prevent data falsification and copying.
Until now, digital data can be easily copied, making it difficult to add value and generate revenue.
NFT solves this problem, and since NFT sneakers can be proven to be original and one-of-a-kind, highly collectible sneakers add value just like in the real world.
In addition, NFT sneakers have attracted a lot of attention as well- known brands such as Nike, Under Armour, and Asics have released NFT sneakers.
In 2022, the Metaverse market size is expected to reach $61.8 billion and reach $828.9 billion in 2028.
Since items in the Metaverse are becoming NFTs, the size of the NFT market is expanding, and NFT sneakers that can be used in the Metaverse may also grow.
2. Case of NFT sneakers
Three famous examples of NFT sneakers are:
Stepn's NFT sneakers that you can earn by walking
Famous Brand Announces NFT Sneakers
NFT sneakers by NFT specialty brand
I will introduce them in order.
(1) STEPN NFT sneakers that make money by walking
STEPN is an NFT game that represents Move-to-Earn, and you can earn virtual currency just by walking or running.
By purchasing NFT sneakers and wearing them in the game, we have adopted a mechanism that allows you to earn virtual currency just by walking in the real world .
Although it is a new game released in December 2021, the number of users as of June 2022 has already exceeded 600,000, and it continues to increase due to its high potential.
Especially in Japan, where people are highly conscious of their health, there are a large number of users, and it has rapidly gained popularity as it can earn virtual currency just by walking and is linked to health promotion.
STEPN's NFT sneakers have different statuses such as rarity, type, and level, and high-level NFT sneakers have features such as being able to earn virtual currency efficiently.
In addition, NFT sneakers are digital assets that can be authenticated, and their value changes depending on their rarity and other status.
In other words, if you own a popular NFT sneaker, you can sell it and make a profit .
Within 2022, it will be possible to rent NFT sneakers from holders, and a mechanism will be introduced to distribute the earned virtual currency between lenders and borrowers.
Since the initial cost of purchasing NFT sneakers is no longer required, it is expected that the hurdles to start STEPN will be lowered and the number of users will increase.
(2) Famous brands announce NFT sneakers
Famous brands that have won many fans in the real world are entering NFT sneakers one after another.
Users can now enjoy fashion by wearing the purchased NFT sneakers on their metaverse and game avatars .
For example, Nike's first NFT sneaker collection "CryptoKicks" has exceeded 5,600 ETH (approximately 1.2 billion yen) in total trading volume on OpenSea.
Nike has sold over 9,000 at auction, with the rarest NFT sneaker topping the list at 150 ETH.
Since NFT sneakers are digital assets with added scarcity value , there are many collectors who seek high originality.
In addition, since the value of NFT sneakers with high rarity value tends to increase, there are cases where they are purchased for investment purposes in order to make a profit on sale.
Under Armor celebrates contract athlete Stephen Curry setting a new NBA record for most 3-point shots made with the launch of the NFT sneaker.
It reproduces the sneakers worn by Curry in the record-breaking game, and can be worn in three metaverses: Gala Games, The Sandbox, and Decentraland.
A total of 2,974 NFT sneakers will be sold for $333, with all proceeds going to a children's sports charity.
Similar to Under Armor, NFTs celebrating records and anniversary commemorative NFTs have been sold in limited quantities, and NFT sneakers by famous brands will be released in the future.
Being released in limited quantities increases scarcity value, and premium NFTs tend to be traded at high prices in resale and secondary distribution .
Reference article
Vtuber Rie Momozono has started selling limited NFT art to commemorate the number of subscribers exceeding 30,000!
(3) NFT sneakers by NFT specialty brand
As the market size of Metaverse and NFT games grows, brands specializing in NFT fashion are appearing one after another.
The NFT brand "RTFKT" was one of the first brands to enter NFT fashion, and became a hot topic when it was acquired by Nike in December 2021.
In addition to the parent company Nike, collaboration works with famous artists FEWOCiOUS and Takashi Murakami are also gaining popularity.
Among them, 600 pairs of NFT sneakers collaborated with FEWOCiOUS were sold out in just 7 minutes, and it was a big hit with sales of 3.1 million dollars (about 332 million yen).
In Japan, companies with digital fashion brands such as "1SEC" are making NFT fashion exciting.
1SEC was the first company to sell NFT sneakers in Japan, setting an amazing record of selling out immediately for 5 ETH (approximately 1.4 million yen) in just 9 minutes.
In April 2022, we collaborated with the metal idol "BABYMETAL" and have a track record of releasing a limited number of 10 pairs of NFT sneakers.
Also, like popular sneakers that are resold without ever being worn in the real world, popular NFT sneakers can increase in value.
In addition, Epic Games, which handles the popular game "Fort Knight", has announced a comment that expects it to enter the NFT game and Metaverse.
In the future, we can expect an increase in demand for NFT sneakers as the number of scenes where they can be used, such as metaverse and NFT games, will increase.
3. How to buy NFT sneakers
We will explain how to purchase NFT sneakers in 3 steps, using STEPN as an example.
Buy cryptocurrencies on domestic exchanges
Exchange to SOL (Solana) at overseas exchanges
Purchase NFT sneakers at SOL (Solana)
I will explain in detail below.
(1) Purchase virtual currency at a domestic exchange
In order to purchase NFT sneakers at STEPN, virtual currency SOL is required.
However, SOL is not sold on domestic exchanges, and in order to exchange for SOL on overseas exchanges, first purchase the virtual currency that will be the exchange source at domestic exchanges.
For cryptocurrency exchanges, we recommend Coincheck, which has been the number one app download for three consecutive years in Japan. After registering as a member of Coincheck, proceed to the next step.
At domestic exchanges, we buy stocks such as ETH (Ethereum) and XRP (Ripple).
Click "Sales (Purchase)" on the left side of the screen.
Select "ETH"
Enter the quantity you want to purchase
Click "Buy Now" on the bottom right of the screen
This completes the purchase of the virtual currency to be exchanged.
(2) Exchange to SOL (Solana) at overseas exchanges
Next, let's transfer the virtual currency purchased at the domestic exchange to the overseas exchange and exchange it for SOL.
Here, we will explain how to transfer and exchange money using Binance, which is the world's largest and can trade SOL.
First, log in to Binance and click the "person mark" → "Wallet" → "Fiat and actual" at the top right of the screen.
Click the deposit of the brand to be remitted from Coincheck .
Select virtual currency: Select the currency to transfer
Deposit destination: Check network
When the remittance address is displayed, select "Click to copy"
Next, perform the procedure to remit the virtual currency from Coincheck. If you send money to the wrong address, you cannot cancel the transfer, so please be careful.
Click "Crypto asset transfer" on the left side of the screen
Destination: Register your Binance remittance address
Enter "Transfer Amount"
Click "Next" at the bottom of the screen
Remittance to Binance has been completed.
Next, exchange the virtual currency sent to Binance to SOL. Click "Trade" → "Binance Convert" at the top of the screen .
Transfer source: Enter the selection and amount of the issue remitted from the domestic exchange
Click "Conversion Preview"
Transfer to: Confirm the brand and quantity to be exchanged
If you are satisfied with the symbols and quantities, click Convert .
This completes the exchange to SOL.
(3) Purchase NFT sneakers at SOL (Sorana)
Purchase NFT sneakers from the STEPN app.
If you don't have the app, install it. Click DOWNLOAD NOW on the STEPN official website to go to the app download page.
After installing the app, create a wallet for STEPN.
Click the wallet icon in the upper right corner of the app
Click " Wallet" at the top of the screen
Click "Create a new wallet"
Make a note of the 12 seed phrases that appear
Enter 12 seed phrases in order on the switched screen
Wallet creation is complete.
Next, transfer SOL from Binance to the created wallet.
The remittance address is displayed on the "Wallet" page in STEPN , so let's copy it.
Go back to Binance and click "People mark" → "Wallet" → "Fiat and spot" at the top right of the screen .
Enter "SOL" in the coin search and click "Withdraw" .
Currency: Select SOL
Address: Enter the remittance address of STEPN
Network: Select SOL
Once you have completed the above three points, let's proceed with the remittance procedure.
The remittance procedure to STEPN has been completed.
Finally, if you complete the procedure in STEPN, you will be able to purchase NFT sneakers.
Click the Solana mark on the top right of the STEPN screen
Click "Transfer"
Click "To spend"
Select "All" and "CONFIRM TRANSFER"
Click the cart mark on the bottom right of the screen
Go to the Marketplace to find and purchase your favorite NFT sneakers.
This completes the purchase procedure for NFT sneakers.
4. How to make NFT sneakers
Next, I will explain how to actually make NFT sneakers in 3 steps.
When making NFT sneakers, we use a creation tool called CryptoKickers. CryptoKickers will create NFT sneakers on the blockchain called "Solana", so we will start by creating a wallet for crypto assets called Phantom Wallet that supports Solana.
Create Phantom Wallet
Send SOL (Solana)
Create NFT sneakers
I will explain in order.
(1) Create Phantom Wallet
Phantom Wallet supports the Solana blockchain and is the preferred wallet for CryptoKickers.
You need virtual currency SOL to create NFT sneakers with CryptoKickers . If you do not have one, create a Phantom Wallet.
Phantom Wallet has a Chrome version and an application version, and can be downloaded from the official website .
Download Phantom Wallet
Create a new one and make a note of the displayed recovery phrase
Set the password and click "Save"
This completes the creation of Phantom Wallet.
(2) Send SOL (Solana)
SOL is required to create NFT sneakers, so transfer SOL to the created Phantom Wallet.
Remittance of SOL is the same as how to buy NFT sneakers , so please refer to it.
This completes the transfer of SOL to Phantom Wallet.
(3) Create NFT sneakers
Let's create NFT sneakers.
Go to CryptoKickers official website and click "CREATE YOUR OWN" .
Choose your favorite parts and coloring
Click "DONE" when completed
Select the wallet "Phantom Wallet" to use
Set sneaker name and royalty for secondary distribution
Pay the fee required to issue NFT sneakers
Let's download the file when the NFT is issued.
After downloading, you can put it up for auction or send it.
This completes the creation of NFT sneakers.
5. How to earn NFT sneakers
Here are three ways to earn money using NFT sneakers.
Earn cryptocurrency by walking
Earn money by selling your NFT sneakers
Earn by selling the NFT sneakers you created
I will introduce them in order.
(1) Earn virtual currency by walking
It is common to earn money with NFT sneakers according to the number of steps actually taken and the distance traveled .
For example, in STEPN, you can earn virtual currency GST by the number of steps you actually walk.
How much you can earn in a day depends on the type and specs of the sneakers, but how much can you earn at the price as of August 25, 2022?
Sneaker fee: Minimum about 1 SOL (1 SOL = 4,913 yen)
Approximate amount of money you can earn in a day: 4 to 6 GST (about 60 yen)
Initial cost recovery period: about 80 days
If you don't care about the rarity of the sneakers you need to earn, you can buy them for around 5,000 yen, but it takes about 80 days to recover the initial cost.
In addition, the amount of money you can earn will increase or decrease depending on the conditions, such as 10 minutes if you have 1 pair of sneakers, and 20 minutes if you have 2 pairs.
STEPN is also planning to provide a service where sneaker owners rent out sneakers to users who want to rent them and receive a portion of the profits.
You can earn virtual currency just by walking, and if the price of GST rises, the amount you can earn will also increase, so let's expect the price of GST to rise in the future.
(2) Earn money by selling NFT sneakers you own
Sneakers worn by STEPN and NFT sneakers purchased from famous brands can be listed on the marketplace , so you can sell them and earn money.
In STEPN, if you own two or more pairs and meet certain conditions, you can create new sneakers called mints.
Selling a pair of newly born shoes will make a profit, and if a rare sneaker with high value is produced, it will lead to a large profit.
NFT sneakers of famous brands can also increase in value, just like popular sneakers that are resold in the real world, so there is also a way to earn from price increases.
(3) Earn money by selling the NFT sneakers you created
You can earn money by selling NFT sneakers created with CryptoKickers .
The created NFT sneakers can be exhibited in Cryptovoxels and can be purchased by visitors like a shop.
It can also be sold on NFT marketplaces such as OpenSea, so if it becomes a popular NFT sneaker, it may be resold many times and earn royalties .
When selling, use SNS with spreading power such as Twitter and send it to many people.
First of all, it is important to increase sales by getting many users to know.
6. Focus on the future of NFT sneakers
NFT sneakers can be used in many ways, such as fashion items to dress up in the Metaverse, or as a means of earning virtual currency in the game.
Until now, NFT sneakers were mainly used as items to earn in NFT games such as STEPN.
However, along with the growth of the Metaverse market, the popularity of NFT sneakers has increased as a fashion item.
In addition, the appearance of famous brands and NFT fashion specialty brands has increased their asset value, and many users own them as collections just like in the real world .
NFT sneakers are an item that earns money and have the appeal of being fashionable and fun to collect, so there are probably many users who are looking forward to future usage and future potential.
Therefore, when selling NFT sneakers such as famous brands, we recommend using HINATA .
With HINATA , you can easily sell and purchase NFT sneakers just by registering as a member because gas charges are free and it supports payment in legal currency (Japanese yen).
If you want to create and sell your own NFT sneakers, why don't you send your attractive work on HINATA ?
NFTプラットフォーム「HINATA」(2022年1月11日公開)